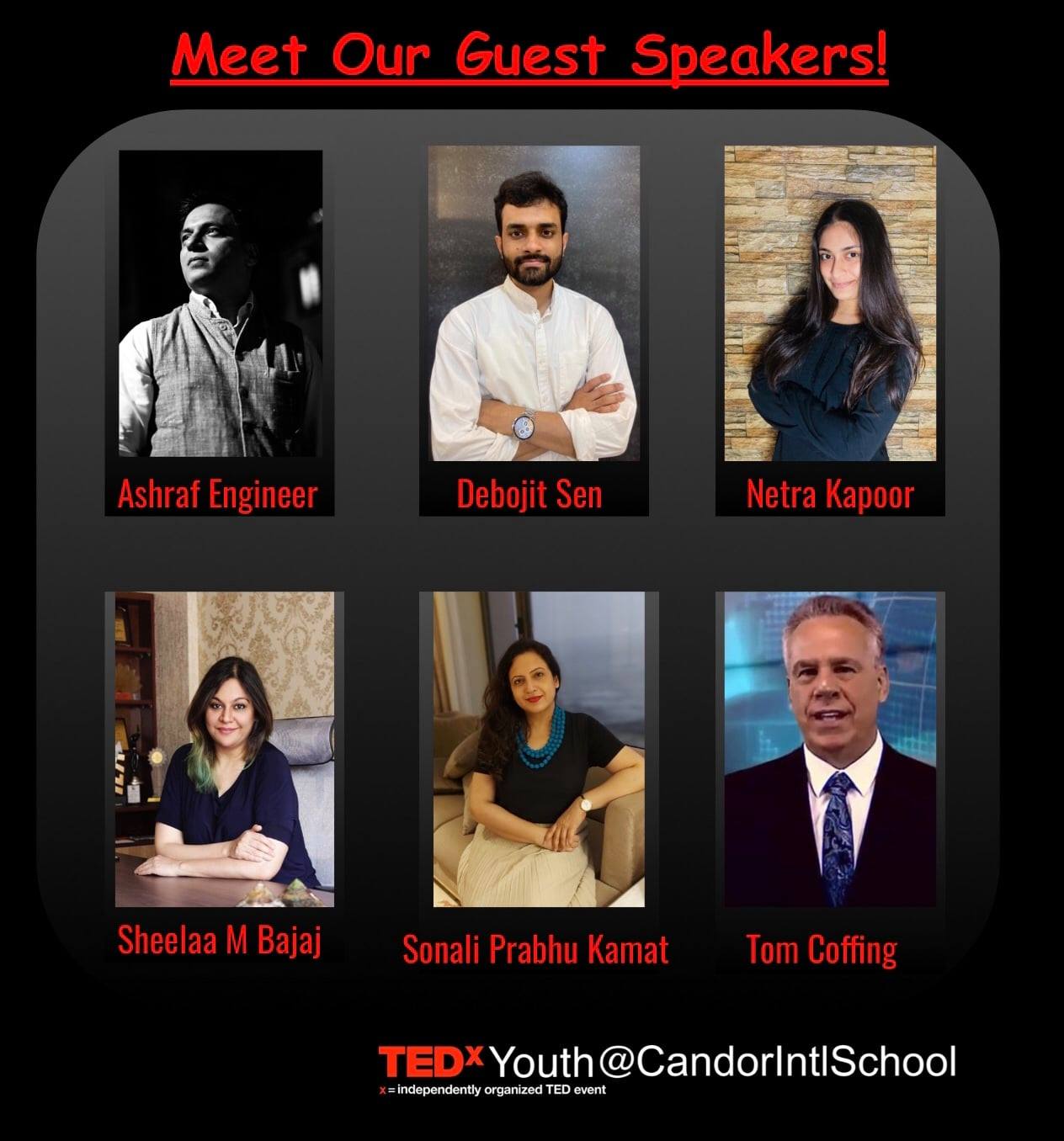 Speakers at Tedx Candor
Ashraf Engineer
Executive Director at Pitchfork Partners Strategic Consulting
Ashraf Engineer is an award-winning media and strategic communication veteran. In a media career
spanning nearly two decades, he was part of or led the newsrooms of Mid Day, The Bombay Times,
The Maharashtra Herald and The Hindustan Times. In 2011, he was in Afghanistan as part of a UNAID
project to train first-generation Afghan journalists. He continues to write for national and international
publications and has been frequently called upon as an expert for the Australia Broadcasting Corporation's
radio service. He is the host of the renowned All Indians Matter podcast, which has featured and topped
the charts of various platforms, such as Apple Podcasts, Spotify, JioSaavn, Gaana and Wynk.
Debojit Sen
Business Head at Cardekho (a fast-growing Indian auto-tech conglomerate),Mentor, Keynote Speaker, and a Partner for a Social Learning Platform called Crack-ED
Debojit has had a keen interest in leading people for the last 2 decades and uses the Crack-ED platform to empower young professionals on soft skills and life skills to help them lead a satisfying career and life. Currently leading a large used car business across India within Cardekho, Debojit has more than a decade of experience in the corporate world across Media, Ed-Tech and Auto-Tech organisations while being an active mentor and teacher through various platforms. Debojit, who hails from a middle-class family in Kharagpur, West Bengal, is a B-tech from NIT Rourkela and a Marketing Masters from SPJIMR and currently resides in Gurgaon with his family. With a life mission to "Elevate Lives", Debojit fulfils this through all his endeavors.
Netra Kapoor
TV Actress
Netra is 20 years old who graduated in Mass Media. She is an actress in the television industry in India. In her talk, she will be elaborating on perseverance. Netra believes that giving up is not the solution, faith and belief is the key to success.
Sheelaa M Bajaj
Inspirational Speaker
Ms.Sheelaa Bajaj is a well-respected author, a celebrated numerologist, she is a life coach and a certified facilitator, Feng Shui master, a spiritual teacher, and a very inspirational speaker. She has helped a lot of people find their way back to light after getting lost. Her mantra is, "The future is dynamic and depends on the choices we make"
Sonali Prabhu Kamat
Professional Dancer and Certified Public Accountant (CPA) with California Board of Accountancy, USA
Sonali Prabhu Kamat is a professional dancer who teaches dance to students of all ages through Shivam Nritya Kala Mandir. Sonali passionately believes that no matter what your age, profession or body type is, you can dance gracefully as an individual and as part of a group, and attain a happier, healthier lifestyle. She has previously associated with the Rotary Club of Mumbai Kalakar and other organizations and helped teach dance to underprivileged and specially challenged children. Sonali is also a Certified Public Accountant (CPA) with the California Board of Accountancy, USA and also has a CISA certification from ISACA, USA.
Tom Coffing
CEO and Owner of Coffing Data Warehousing
Tom Coffing, CEO of Coffing Data Warehousing, has taught 1000 big data classes worldwide, written 85 books, and is the owner of the Nexus software, which queries, migrates, and joins data across all on-premises and cloud database systems.