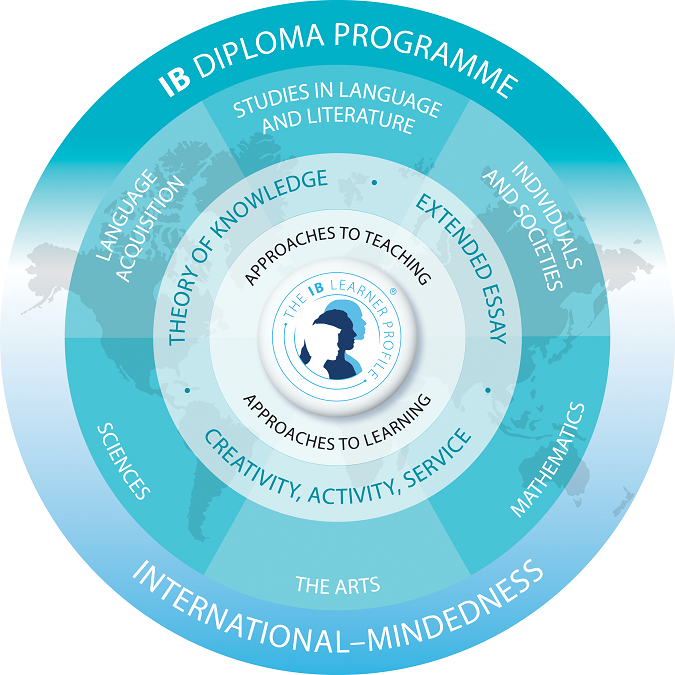 The IB Diploma Programme (IBDP) aims to instill in students the ability to think critically and communicate their understanding in a variety of ways. It encourages students to take responsibility for their own learning and develop their research skills. It encourages them to collaborate with each other, not just within the school but with people all around the world. The Diploma Programme teaches students self-management skills, such as to meticulously plan and organize their resources and manage time effectively.
Students in IBDP typically study six subjects over a period of two years. These subjects comprise of two languages, sciences, individuals and societies, mathematics, and the arts (which is optional). Out of the six subjects, students usually study three subjects at a higher level and three at standard level. Apart from these subjects, the IBDP  students also need to fulfill certain core requirements. Each diploma student is expected to complete an extended essay – which is a 4000-word piece of academic writing on a subject of their choice. The theory of knowledge programme encourages students to investigate knowledge issues and make connections that are both interdisciplinary and trans-disciplinary in nature. The Creativity-Activity-Service programme encourages students to develop their own identity. It enables students to engage in activities outside the classroom that develops their own personality and also provides them the opportunity to give back to society and make the world a better place.
The IBDP curriculum at Candor is delivered by faculty who are qualified and passionate about education. They deliver the curriculum using an approach that is rooted in inquiry, focused on conceptual and contextual understanding, and differentiated to meet the unique needs of each Diploma student. These facilitators encourage the students to learn independently, make inter-disciplinary connections, and build skills that they can apply to a large number and variety of situations.
Through its IBDP curriculum Candor International School seeks to develop students who are independent and life-long learners, who are balanced and open-minded individuals, and global citizens who can make a difference to their generation.
At Candor, we offer the IB Diploma Programme in Grades 11 and 12. The DP curriculum is robust, challenging, concept-driven, and is characterized by authentic and rigorous assessment. It's built to provide students with a balanced education, facilitate global and cultural versatility, and to promote international understanding.
The IBDP was designed by teachers at the International School of Geneva. With inputs from several other international schools,  committed teachers and examiners from throughout the world have curated, designed, and developed the IBDP since then.
Neha Srikanth an IBDP alumni from Candor International School says, "If there is anything I have learnt over the years as a student, it is that performing well academically will definitely make your parents proud, your teachers happy, and can even help you get to your dream college. But what needs to be remembered is that grades alone could never define who you are, your character does. I'm extremely grateful to Candor for providing me with the holistic environment that helped me develop both of these aspects simultaneously and I'm extremely proud of standing here today. I would like to take this occasion to thank everyone I met on this incredible journey. Firstly I would like to thank our chairman Mr. Suresh Reddy and the director of curriculum Ms. Madhavi Reddy for creating this lovely community and this nurturing environment for so many children. You've positively changed and will continue to change all of their lives.
When I look back at my time in Candor, I remember so many moments where I was laughing and having a great time full of positive memories, which I will treasure forever and take with me. I can now say without doubt that I have reached the ultimate goal and am now officially prepared for life.
We leave this part of our journey with a greater appreciation for the people and events that led us here. We go forward with an even greater drive to brave new challenges and create new memories that will last us a lifetime."